The Grand Bazaar LIVE @ Totara Street Thurs 29 Sept 2022 with special guests TryptoFunk & Mugatu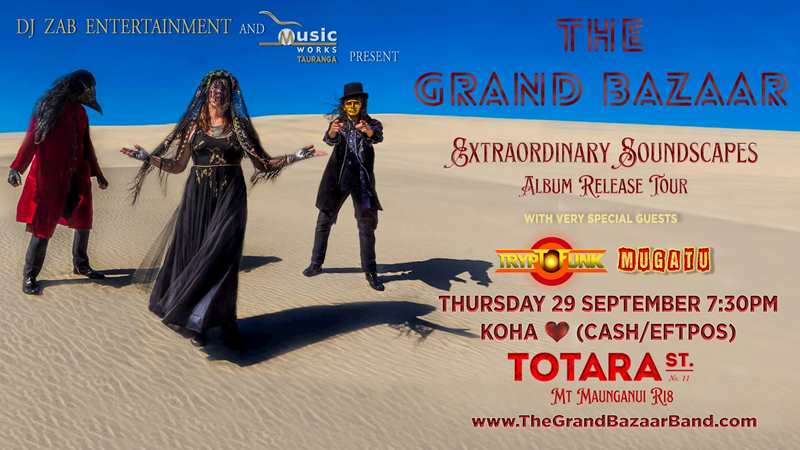 This is The Grand Bazaar's ONE AND ONLY Tauranga show for 2022 so book Friday 30th September off work NOW and treat yourself to a long weekend of alternative music, fine beverages and socialising, kicking off with this live music event on Thursday night!
To commemorate the release of their debut album Extraordinary Soundscapes of Mecha Robots (And Werewolves) Attacking Urban Info Warriors of the 21st Century the band is hosting their global debut concert experience at the legendary TOTARA STREET venue in Mt Maunganui where they will be joined by the multi album spanning special guest artists, the Tauranga based esoteric funk rock duo TRYPTOFUNK as well as the cosmically aligned mad instrumental two piece act MUGATU
The event is FREE TO ENTER with koha upon exit so you can have a rockin' good night out regardless of financial status, and can choose to pay what you think the evening was worth if you have some fiscal units spare when you leave.
Merchandise will also be on sale, ranging from custom wooden flash drives containing the new album in MP3 and WAV file formats, coffee mugs, mouse pads, t shirts, guitar picks and limited edition lyric books.
The first 50 people to offer koha on the way out will receive a complimentary double sided album artwork postcard.
The Grand Bazaar will be performing as a duo (with vocalist Mama Hollywood fronting the band alongside guitarist Slendrmann who will be taking up 6 and 7 string duties) minus drummer Mr E (whose unpredictable volatile nature has prevented his inclusion onstage for the safety of both the band members and attendees.)
Bassist Hound McFox will be making a special cameo appearance at the very end of the set as he works late every night as part of an underground syndicate mining cryptocurrency. Hound and Mama Hollywood will wrap up the evening together for the finale minus Slendrmann, who refuses to work onstage next to his fellow plague doctor mask wearing band member after previous altercations which also included the talented but troublesome Mr E and a bottle of HP sauce.
And you thought Oasis had it hard ...
Despite the bitter offstage rivalry and dysfunction, The Grand Bazaar do wish that all attendees have a great time enjoying their show, which is a non stop wall of sound tour de force accompanied by a relentless plethora of moving imagery.
* Flashing light warning to be noted for those prone to seizures *
Door open at 7:30, Mugatu hit the stage at 8:00, TryptoFunk start their set at 9:00 and The Grand Bazaar will be bringing it from 10:15.
DOORS 7:30PM - R18
NO VACCINE PASS REQUIRED