Coast Presents AutoMatic80s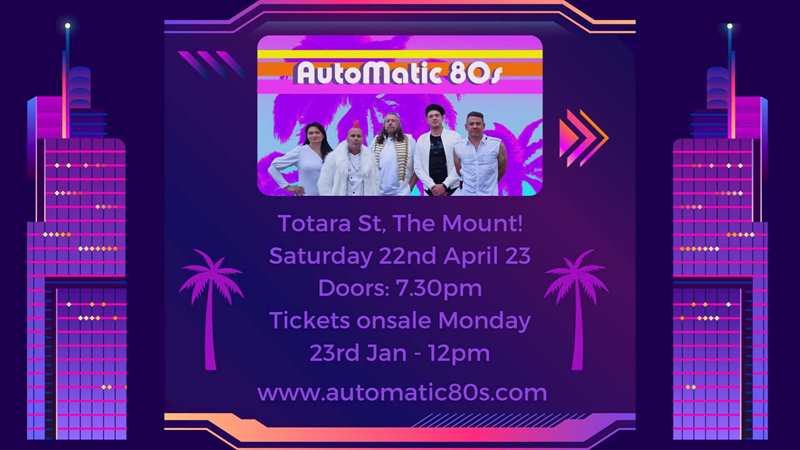 It was a decade of big hair, padded shoulders, and eye-straining fabric colours and patterns, it's time to get them out of the wardrobe as the Automatic 80s are back to the Mount!
This will be the 8th time for the band playing this fantastic venue! Lock it in, it will be one banger of a night!
AutoMatic 80s delivers the smash hits of this unforgettable and exciting musical era. From bands like Human League, Simple Minds, Duran Duran, Blondie, Culture Club through to artists like Kate Bush and Robert Palmer, AutoMatic 80s performances will transport you back to those heady, youthful times and leave you wanting more.
Automatic 80s is a world class group of musicians featuring the astonishing sound alike vocals and high energy stage antics of front man Justin Maclaren, backed up by the pitch perfect Pearl Runga (sister to Boh & Bic), drummer Glen Child (session muso), lead guitarist Ryan Wood (Session musician), bassist Simon Finnel, (Session musician).
The band and production crew are dedicated to bringing audiences the ultimate Eighties concert experience - quality sound, great lighting and electric atmosphere.
DOORS 7:30PM - R18