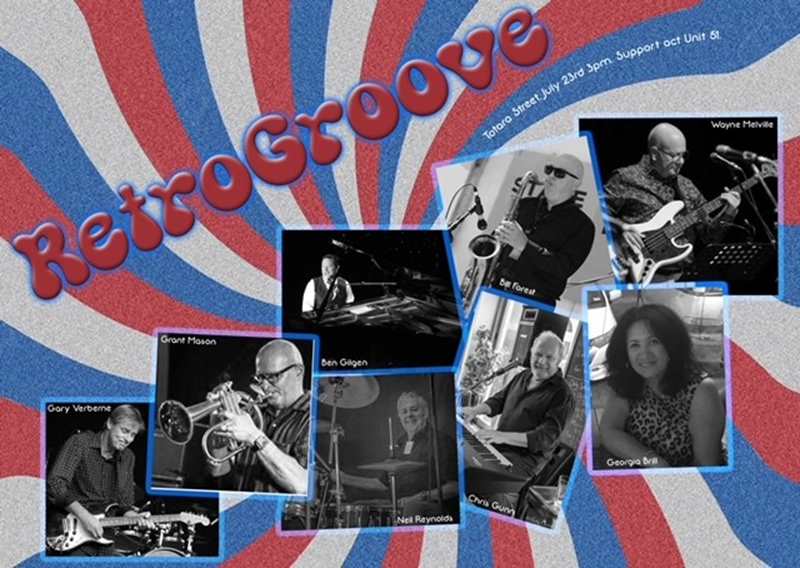 RetroGroove is heading to TOTARA ST!
Sunday the 23rd of July 2023
With support from Unit 51.
This is a supervised event, bring the kids, all welcome :)
Chris Gunn. Piano, Organ, Guitar & Vocals
Chris has been on the N.Z. music scene for more years than he cares to remember. Bands he has played in include Movement (out of Wellington), Human Instinct, Salty Dogg, Larry Morris Band, various Ritchie Pickett lineups and extensive touring of N.Z. and Australia backing TV and recording artists. He plays piano, organ & guitar as well as lead vocals.
Georgia Brill. Lead Vocal
Georgia is an experienced lead vocalist who has been playing in bands for over 30 years. Since returning to New Zealand she has sung with various bands, including being part of The Eva Cassidy Tribute group at last year's Fringe Festival. Her love for R&B, Soul and Funk is complimentary to her powerhouse vocals.
Grant Mason. Trumpet and Flugelhorn
Grant has been associated with the Tauranga Jazz Festival for the past 35 years, in big bands, small ensembles (including Torch Songs), Phil Broadhurst, The Tauranga Big Band, and The Jazz Divas.
Bill Forest. Tenor, Alto and Soprano Sax
Bill has been playing for over forty years in a variety of lineups from Big bands through to smaller Jazz and blues combos. He has played with the Hamilton big band, Raglan based West Coast Jazz, Tracy Hopewell's Fever and Affirmation (Jazz/Rock).
Gary Verberne. Lead Guitar
Gary was a familiar face on the NZ music scene from the 80's to the 2000's, playing alongside Dave Dobbyn, When the Cat's Away, and Shona Laing among many others.
Wayne Melville. Bass Guitar
Wayne has been involved in the Waikato/BOP music scene for many years, supporting the likes of Midge Marsden, No Exit and many more. Tauranga based, he has appeared at Jazz Festivals with Torch Songs and a number of other jazz lineups, but he is equally at home with Rock, Blues and Country.
Neil Reynolds. Drums
Another well known name in NZ music, Neil started out with 60's band The Mods, later joining 70's band Mandrake, and then going on to become the founding drummer in Dragon. Along the way he has played with numerous lineups both here in in Australia. His musical CV includes Jazz (Torch Songs, Affirmation), Country (Gray Bartlett, Brendan Dugan, Jodi Vaughan, Eddie Low), Rock n Roll (Tom Sharplin and others), and Blues (Midge Marsden, Hammond Gamble and a one off show with Chuck Berry at the Mt Smart Supertop.)
Ben Gilgen. Piano & Keyboards
Ben is a very accomplished musician who has played with many of New Zealand's top players both touring, live venues and as a recording session musician. He played Keyboards in well known band Ardijah, Hona (the Willie Hona Band), The Billy T. James Band, Gotham City Express, John Rowles as his MD and Kiri Te Kanawa.
DOORS 2:30PM