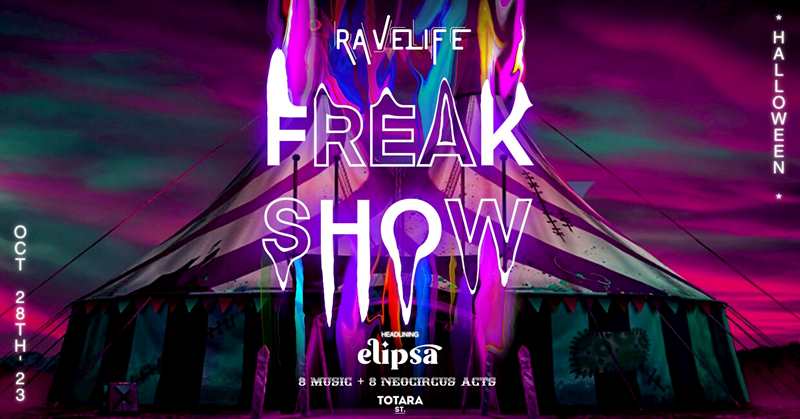 DOOR SALES ONLY FROM 8PM.
‼️ GET YO FREAK ON ‼️
This coming Halloween, Freakshow will resurrect the dead with a fully integrated arts and music neo-circus show to shock, stun and provoke your inner freak. This round of horror, we are bringing a range of performing art-forms merged into some of the best national electronic music acts, whilst hosting a 50% female line up headlining Elipsa straight off her European and US Tour.
Freakshow 1.0 was a massive sell out even on a Sunday and set a high bar for the huge show we have locked in for Freakshow 2.0.
What you can expect:
🎵 Music: Electronic with some of the leading and emerging acts of NZ.
- Headlining ELIPSA (ALK)
- SAME GUY (Duo act from Grommie & AudioJunkie) (AKL)
- REDACY (electronic drummer) (AKL)
- DEGEN (HAM)
- SLAPS (TGA)
- ENCEE (TGA)
- NOIZZY (TGA)
🎪 Performing Arts: Circus/ Freakshow performing acts
- To be announced via Ravelife Social in the weeks coming so keep an eye out. We have some insane talent ready to amaze, wow and scare the hell out of you.
🎃 Dress Up - Remember it is Halloween so Dress Up is essential and prizes are at play.
Ravelife returns back into the fray with this premier show so don't miss out.
DOORS 8PM - R18