Celebrating Amy Winehouse : Back To Black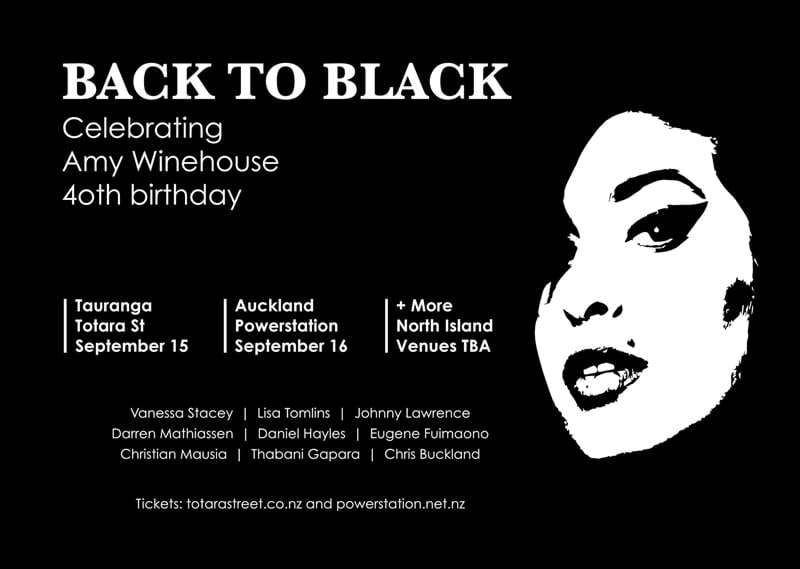 Come and join us in celebrating Amy Winehouse's 40th Birthday this September. Enjoy a stellar collection of her extraordinary original compositions from her first album 'Frank' and her legendary, chart-topping sophomore album 'Back to Black'. Also included is a set of her favourite classics and deep cuts performed live. You don't want to miss it – snap up tix now!
'Back to Back' brings together some of this country's finest musicians. This eight-piece supergroup of Aotearoa Allstars has already wowed thousands of concert-goers with an outstanding evening in celebration of Amy's life, her beloved songs and incredibly well-crafted music.
This epic line-up and killer band features:
Vanessa Stacey (Chocolate Box Deluxe, Aretha with The APO)
Lisa Tomlins (L.A.B, Rhombus, Lord Echo)
Johnny Lawrence (EWH, Hollie Smith, Louis Bater)
Darren Mathiassen (Shapeshifter, Kora)
Daniel Hayles (Richter City Rebels, Hollie Smith, Clear Path Ensemble)
Eugene Fuimaono (Whirimako Black Band)
and our heavyweight horn section of
Chris Buckland (The JAC, Richter City Rebels), Christian Mausia and Thabani Gapara (Katchafire, Sons of Zion, Stan Walker Band)
DOORS 8PM - R18